From the moment they are born our obsession with our kids' teeth begins. All unexplained, irritable and erratic behaviour in babies is attributed to teething. When their first tooth appears we mourn the loss of their gorgeous gummy smiles and celebrate the arrival of an important developmental milestone. Equally when they lose their first milk teeth we make a huge song and dance about it by creating this dramatic, mythical creature known as the Tooth Fairy. And what a pain in the ass she is.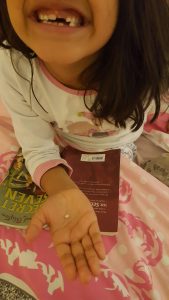 Initially it seems like a good idea to propagate the Tooth Fairy myth. After all, it is a cause for celebration when your child finally gets rid of the wobbly, protruding tooth that has been hanging by a thread at an awkward/ugly angle for weeks. So you consult your friends, work out what the going rate is for a tooth and tell your child that the Tooth Fairy will leave something special for them. Great. Job done. Not quite.
There are many problems that can arise. Firstly there is the pressure to continue forking out money for every single milk tooth that falls out. After the first six teeth, the novelty soon wears off but your child will still expect to be paid.  Having an emergency stash of coins at home is absolutely critical as your kid won't take it well if you don't cough up. Trust me, it can get dramatic. Don't get caught out.
Secondly your kid will try and pull a fast one. They will tell you that inflation has kicked in and that Melanie T, Sarah B and Keira A at school all get £10 per tooth. You won't believe them, but will feel the need to check with their parents who will promptly tell you they too only dish out £1 or £2 per tooth. Never believe your child when they start talking in monetary terms. They lie.
Then there's the guilt of being a crap Tooth Fairy. By the time you have sorted out the kids' school bags/uniforms, washed and tidied up, finished watching late night TV, checked Facebook and eaten dinner, the Tooth Fairy is nowhere to be seen. You collapse into bed forgetting all fairy-related duties only to be rudely awoken at 6am the next morning when your kid runs in sobbing that the Tooth Fairy didn't turn up. Crap! It happens to the best of us. We all forget to make our magical deposits now and then and have to come up with some lame excuse about the Tooth Fairy getting stuck in traffic or having a busy night and reassure them that she will definitely turn up that night. Big sigh. Who would have thought that a no-show by the Tooth Fairy could cause so much angst for a little person?
Even worse is when you have no choice but to raid your child's Tooth Fairy stash for parking money. You're in a rush, you need some coins and the only quick way to get some is to dip into their money box. It's terrible, it's unethical, it would send your child into meltdown if they knew, but sometimes it's the only way. Just remember to put the money back promptly and they will be none the wiser.
All this hassle for the arrival of wonky teeth. All this drama and expense for crooked, oversized, gappy adult teeth?! I miss my girl's perfectly formed baby teeth and feel like telling the Tooth Fairy to "Do one" when I see what they have been replaced with. In due course the new teeth will straighten out (I hope!) but for now I'm in no mood to entertain the wretched Tooth Fairy.  Unfortunately for me, my kid would be too traumatised if the Tooth Fairy was to suddenly stop coming. So I'm on the slippery slope and will just have to keep going until we run out of teeth or my kid outgrows her. Damn you Tooth Fairy. If only I'd known.