There used to be a time when visiting my parents' house was a warm, welcoming, familiar sanctuary where I could unwind, kick back and be fed copious amounts of food. It was a retreat from life's drama where the Old Git and I would be treated like royalty. The oldies LOVED hosting us but since having the kids this scenario has changed somewhat. Now, a visit to grandma and grandpa is nothing short of stressful, with frequent bouts of drama and hysteria. Oh, how times have changed.
Firstly let's talk about rules. Basically, there are none. The kids act like they own the joint and ignore everything you tell them, safe in the knowledge that grandma and grandpa will undermine you and accommodate their every whim. Anything goes here… if they want to watch TV all day and night, they can. If they want a meal consisting of cheerios and chocolate buttons, no problem! If mummy says "no more!" you may as well be talking to a brick wall.
Then there's the hysteria (sugar-induced, no doubt). No more peace, no more retreat. When all the grandkids get together (there are six in total from my siblings and I), the noise levels are brutal. There's screaming, screeching, fighting and laughter all mixed in with a bit of wailing and sobbing (from Ludoo). And let's not forget the mess. Crumbs everywhere. Food splattered across the floor and table. Ice lollies dripping over the carpet. Toys and puzzles scattered across the house. Shudder. My poor parents just watch on in a dual state of horror and devotion, as my siblings and I tidy up behind our offspring and/or yell at them to tidy up themselves.
And then there is the drama and misfortune that unfolds all too frequently at my parents' house. Like when Ludoo locked himself in one of the bedrooms. For a good twenty minutes there was chaos in the Khan residence. Grandma was running around frantically looking for a master key whilst shouting instructions, a panic-stricken grandpa was running up and down the street in his slippers looking for someone to help, the other kids were downstairs fighting and screaming over the iPad (completely oblivious to what was going on) and I was irate at being placed in this predicament, whilst comforting a stressed out Ludoo through the keyhole. It was complete and utter mayhem. Needless to say, Ludoo made it out of the room but I needed a strong cup of tea to recover.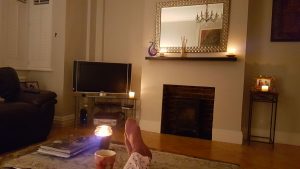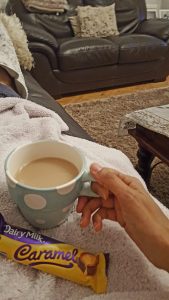 Pre-kids my parental home was a peaceful haven where I could escape and recharge. Now, it's party central where the kids run riot. They've well and truly pissed all over that parade and claimed it as their own. Whilst Khan Headquarters will always occupy a special place in my heart, I have to say, I'm rather fond of my own home now and its creature comforts. I believe a person's sense of calm, wellbeing and security is intrinsically linked to the home they create. Occasionally though, I will secretly visit my parents' home, without the children, and experience a little bit of  bliss again.