Hi, I'm Ludoo and it's my fourth birthday today. My day began with my mum doing the Running Man into my bedroom whilst belting out "Happy Birthday" to me. She looked like a complete nutter but I had to play along as she seemed so deranged with excitement. We then went downstairs and my dad stuck the video camera in my face as soon as I entered the living room. I was about to teach him a lesson and start howling, full pelt, but then I saw the mountain of presents on the table and refrained. Some of the gifts were pretty naff, like the clothes and the Disney bed linen set, but the Scalextric car racing set saved the day. Crisis averted.
Normally my big sister ignores me and slams her bedroom door in my face, but today she was actually interested in hanging out with me. We played with my birthday gifts, ate chocolate eggs and laughed together. It was pretty cool. She then snatched one of my cars which sent me into a baby rage, resulting in me pinching her and shoving her across the room. She started screaming hysterically, I started wailing inconsolably and we both got sent to time out.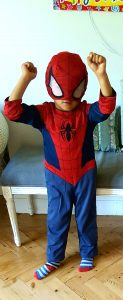 Next it was my party. People started arriving at 3pm and I was dressed as Spiderman. I was, by far, the best dressed person there. I don't have many friends yet so it was mainly my cousins and sister's friends in attendance. There were some people there who I didn't even know, but that didn't matter. All that mattered was that I was the star attraction and I was getting lots of presents. No gift, no entry.
We ate a lot of cake. My mum thinks I didn't notice but she actually did not get me a Spiderman cake, as requested. She got me a Star Wars cake with a lame Spiderman figurine and candle stuck on top. Poor show, I say. I still ate it and then proceeded to scoff the chocolate brownies, eclairs and lemon tart that were all on offer.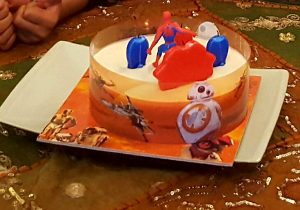 I found most of the kids at my party annoying. They were all playing with my stuff and walking around my playroom like they owned it. One kid even thought it was acceptable to touch my Winnie the Pooh teddy. What the hell? Don't these kids know kiddie protocol? You DON'T touch anyone's favourite toy….ever. I taught him a lesson and screamed in his face with my full fury. He went running to his mum, the cry baby.
The party finished by about 6.30pm and I was pleased to see the back of my guests. Order was restored in the house and there was peace and quiet. At bedtime my mum got a bit overemotional [eye roll] and started reminiscing about the day I was born ..YAWN. She told me I'd always be her baby in her stupid baby voice and practically suffocated me with her needy kisses and cuddles.  I humoured her for a bit but then got vexed and told her to back off by head butting her.
It was a long day and I'm now ready for bed. I'm not quite sure how I feel about being four. I'm on the cusp of starting school but still act and look like a baby. I have complex emotions and have trouble processing them, often resulting in multiple meltdowns. Maybe this is my time to man up and start acting like a boy and not a baby. I feel a change coming on.
Love Ludoo, age 4.