Recently a fifteen year old boy went missing in my area and there was a big local campaign to find him. Unfortunately a few days later his body was found close to where I live and naturally there has been a huge outpouring of grief. Sadly, it seems this young school boy took his own life. I don't know the circumstances of the case but I have seen his school friends, teachers and loved ones leaving flowers at the site where he was found, and it is heartbreaking to see the anguish on their faces and to think of the utter despair this young boy must have felt in his final days. It has made me question to what extent do we really know how our children feel and think? How can we ever be sure that they are not experiencing the darkest feelings of pain and despair?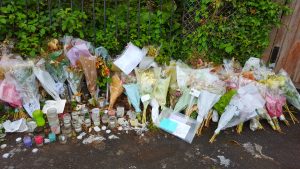 We try so hard to protect our kids from stranger danger and other external dangers, but how can we protect their emotional health? At every stage of childhood, from the toddler years right through to the teen years, children experience volatile and often extreme emotions. But when they are little they show how they feel through their tantrums and meltdowns. As they get older these emotions can often become masked or suppressed. Issues such as exams, friendships, bullying and relationships all come into play and can create further stress.  What might seem trivial to us can become hugely magnified to a child and impact their emotional wellbeing.
Although my kids are young, I try to nurture an open relationship of trust where they can talk to me. But even then it doesn't always work. The other day Flump told me she had seen something disturbing on TV that she didn't want to discuss. She was visibly upset but categorically refused to tell me what it was, despite my best efforts to prise it out of her. I felt like a bit of a failure to be honest as my kid was unwilling to open up to me. It eventually transpired that she had seen a close up shot of a pig's head on MasterChef which had clearly traumatised her! She was expecting to see mouthwatering cake and linguine..instead she got an unwelcome shock! As trivial as it may sound, I have to say it was a bit of a red flag for me as it highlighted  there may be times when my child will not want to share things with me, and that is a bit of a worry.
So how can we protect our kids and help them process their complex and often extreme emotions? It goes without saying that we have to actively ensure our children feel loved, respected and valued. We have to look out for any signs of depression, such as feeling consistently low, unhappy, teary, disinterested or socially isolated, and not just put it down to teenage moodiness. As parents we can try our best to communicate with and support our kids but we shouldn't hesitate to seek help from the medical profession, who can refer children for counselling and other therapies.
Mental health is, quite rightly, a huge political issue these days and we need to remember that children too can suffer from depression. None of us ever want our kids to feel so utterly hopeless that they feel there is no way out. Their formative years can be turbulent ones and we have to be mindful of their emotional anxieties. We always talk about how resilient children are, and whilst that might be true of younger children, I believe that as they approach the teenage years that resilience turns into vulnerability. The only way our children can thrive and stay safe is if we treat their emotional health as equally important to their physical health.