Some people are naturally inclined to be sporty, active and fit. Others, like me, are not. For those in my camp, the thought of getting up at the crack of dawn to go to the gym or of going out for a run once the kids are in bed is crazy, unthinkable and, quite frankly,  abnormal. There's more chance of my kid volunteering to do English comprehension homework or of the Old Git emptying out the bins without prompting than of that happening. However, even for those of us in the "inactive" camp, there comes a point when we realise something needs to change and it's time to get fit.
Some of us do it soon after having a baby, or after experiencing a health issue or perhaps because we have a special occasion we want to get in shape for. For me, it was the realisation that I'd hit my forties and could not rely on my genetics for too much longer to keep me trim and/or healthy. Turning forty is like a slap in the face that forces you to consider your own health as you never know what could be lurking around the corner. Diabetes, cholesterol and blood pressure checks are all a permanent feature of your life post forty. Depressing, right? So I had my wake up call and announced to the Old Git that I was going to start exercising. He smirked. The kids laughed. Nobody took me seriously.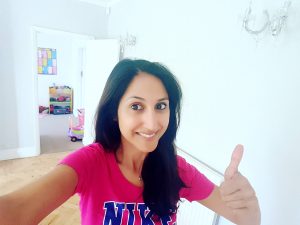 Two months on and I am now a fitness guru. Okay, maybe I'm exaggerating but at least I've started exercising a few times a week. That's a flipping result for me. My friends don't believe me when I tell them I've started running as they've all been doing it for about twenty years plus and have failed to enthuse me. Don't get me wrong, I don't jump out of bed at 5am or ever envisage signing up for the London Marathon but I do feel like I'm the absolute boss after I've managed to run for twenty minutes continuously, considering I  could only run for two minutes when I started. I'm high-fiving myself as I type.
I also attend weekly Zumba classes which I LOVE. It's like going to a  disco on a Monday morning at 9.30 am. Who would have thought? All those years of clubbing pre-marriage/kids have finally come in useful. I am particularly outstanding at the fusion bhangra moves and enjoy lip syncing to every single song. It's bloody marvellous.
My biggest challenge with my new fitness regime is deciding what to wear. I feel I need to invest in some funky exercise gear as I'm currently wearing fifteen year old tracksuit bottoms and post-pregnancy leggings. It's not cool, but it's all I have. The Old Git is hyperventilating at the prospect of a bulk purchase, but has impressively managed to restrain himself from moaning about it. He doesn't want to piss on my parade, after all.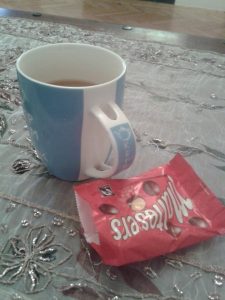 As for my diet, I've been cutting back on the samosas and chicken pasties. In the past I have had an abnormal intake of these deliciously moreish snacks but they aren't doing me any favours. They have to go. But I can't seem to make any progress in cutting back on chocolate. In fact, the other day I went for a really good run and decided to celebrate immediately by eating a giant Easter egg. Not ideal. I have zero self-control when it comes to my chocolate intake and have been known to lecture my kids about the damaging effects of too much sugar whilst chomping on a Toblerone.
The critical question is, will I continue with my new fitness regime? What are the chances of me going out for a run in the winter when it's pissing down with rain, sleet and snow? Fairly slim, I'd say. But at least exercise is on my radar now. I may even have to consider joining a gym. Shudder. Better late than never, I suppose.