This isn't one of those happy clappy standard New Year posts. Forget it. It's all well and good sharing your hopeful New Year resolutions about losing weight, spending more time with the family, saving money blah, blah, blah. The reality is you will start off well and then lose interest by the end of February. It's true. This post is all about how badly things suck when mummy gets sick.
Let me tell you about how my New Year went down. Before I could even make any meaningless resolutions I got ill. That's right.  2017 started fantastically well with me being laid up in bed for a WHOLE WEEK. I mean, who gets sick for a whole week these days? I can't even remember the last time I was completely out of action for a full seven days. And the consequences were far-reaching.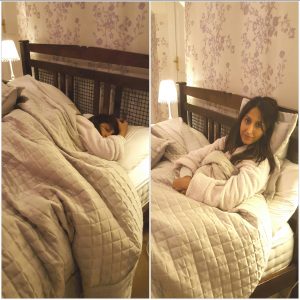 Firstly the Old Git wasn't impressed. He started off well and tried to be sympathetic but by day three he was just hacked off that he had to look after the kids singlehandedly and take time off from work to do the school run. By day five he was trying to persuade me that despite my throbbing head, aching body, sore throat and inability to get out of bed in the mornings, I was much better and that normal service could resume. Really? Would you like a punch in the face now or later? Even the in-laws had to be drafted in to look after the kids when the Old Git claimed he had to go back to work.   Even the cleaner got roped into looking after the kids for four hours when she came over for her weekly visit.  She was told to put away the Domestos and focus solely on entertaining Ludoo and Flump whilst I slept and sweated it out upstairs.
Despite the house going into panic mode, it seems the kids had a blast whilst I was ill.  I'd go as far as to say they loved every second of my illness as it was a change in routine for them and enabled them to have unfettered use of the iPad and TV.  They took full advantage of the Old Git, grandparents and our lovely cleaner by demanding pancakes every day, marathon dvd sessions, continuous snacks and by generally bossing them around. I tell you, it was party time for them. And on the rare occasion I did make an appearance downstairs they would tell me to go straight back to bed. Charming.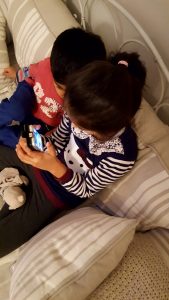 Although the kids may have enjoyed my absence from the household for a week, it certainly proved to be an inconvenience for others. Friends and family were wonderful in their willingness to help out but the reality is they had to go out of their way to help look after my children. It made me realise just how central mums are to the running of the home. When we get sick everyone is impacted and the whole household is thrown into chaos. We are the glue that holds everything together.  We make sure the day runs like clockwork from the school run, nursery drop offs, packed lunches, after school clubs, pickups, meal times, homework, school uniforms, baths,  books, bedtime, the list is endless . We make it happen and should always remember our worth.
As inconvenient and annoying as it is, sometimes we just need to submit to being ill. Most of the time we soldier on and fight off these pesky little bugs, but sometimes one really packs a punch and knocks us out. We then have to allow others to help us. Having a good support network is priceless and being able to forget about the unravelling state of the house is mandatory. Who knows, after a week of being ill, your other half might even realise what a superstar you are? Every cloud has a silver lining and mine was losing three pounds without even trying (hoorah!) and hearing the Old Git finally admit that it's flipping hard work looking after the kids. Result.