There is something very suspicious going on with the Old Git. The other night he came home with a gift. He has been known to occasionally bring home some flowers or chocolates (three times a year on my birthday, our anniversary and Valentine's Day, and even then it's with some passive aggressive prompting from me), but on this occasion it was something different. He unexpectedly presented me with a  dress. Now for some of you lucky/smug folk this may be nothing extraordinary. But let me reiterate, this is not normal behaviour for the Old Git. Nope. This is the first time in almost ten years of marriage that he has ever surprised me with an item of clothing as a gift.  And what's more shocking is that it was rather nice. Which leads me to only one conclusion…he must be having an affair.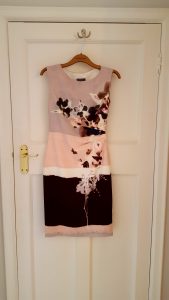 Why, after ten years of marriage, would he behave so strangely? What has prompted this sudden fit of generosity and romance? He must be feeling guilty about something. The mind is in OVERDRIVE. But I've checked his phone messages and emails (we all do it, right?) and there doesn't appear to be any unusual activity. I've also checked the credit card statements and there aren't any unaccounted expenses. When I query the Old Git about his motives he just shrugs sheepishly and carries on with his day.  Which leads me to my second conclusion….he must be having some sort of mid-life crisis.
You hear about it all the time. Men reach a certain age and they start questioning their priorities. They go out and buy convertible cars, take up extreme sports or pack in their jobs (if the Old Git ever did the latter he would be DEAD). My fear is the Old Git is heading towards some sort of dramatic, catastrophic life changing moment and the dress purchase is an indicator of this. SHIT. What the hell am I letting myself in for?
Then of course there is a third possible explanation. I could just take the Old Git's word for it and accept (albeit suspiciously) that he just wanted to do something nice for me. He isn't exactly the chatty type and so having a 'deep n meaningful' about why exactly he bought this dress hasn't yet materialised, despite my best efforts (he would rather clean the toilet or watch paint dry than have a conversation like that). But what I am aware of is that he gave me this gift on the eve of his big milestone birthday. I wonder if the approach towards middle age has brought with it a moment of appreciation for him? He hasn't said it in so many words, but I think he has realised just how flipping brilliant a person I am and how lucky he is to have me as his fantastic wife and the mother of his two (somewhat demanding) children. That must be it. Sometimes, at key moments in our lives, we do experience an epiphany about who and what is important and reach out to those we may take for granted. It gives us all that warm fuzzy feeling. I think I will settle for this rather more favourable interpretation of his recent strange behaviour. Naturally I'm very grateful and all that jazz, but let's just say, I shall be watching him closely.