Today I was forced to bite my (otherwise very vocal) tongue and be gracious about spending the day out in the pissing rain. "It will be fun" he told me.  "We will have a great time," he promised. All in the name of flipping quality time with the children.  A day out at a family theme park on a cold, wet and windy day …my idea of adult hell.
Ordinarily I'd tell the Old Git to sod off but as it was his birthday I thought I'd be a little kinder. Plus he had already told the kids who were hyperventilating with excitement so I was, in effect, trapped.
Against my better judgement, off we went to our local theme park in the pouring rain. The kids looked like drenched little rats, Flump had mud seeping through her socks, Ludoo's eyelashes had rain dripping from them, my wet jeans were stuck to my thighs and the Old Git was marching ahead holding onto a Hello Kitty umbrella.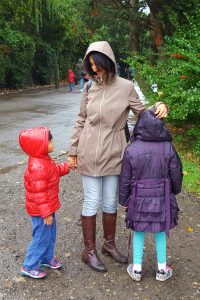 Despite all of this they all seemed thrilled to be there, running from ride to ride, happy to wait in queues (why on earth were there other families there in the pissing rain, that's what I want to know??) and enjoying their "fun day out". I, on the other hand, was wondering what the hell I was doing there. Apart from the obvious bad weather, I had to traipse around a monstrosity of a theme park, subject myself to men dressed completely inappropriately (flip flops and shorts in the pissing rain, I kid you not), and eat really, really bad, tasteless food. The icing on the cake was being forced to sit on a ride with Flump and getting squirted in the face with water as the Old Git watched on and laughed hysterically.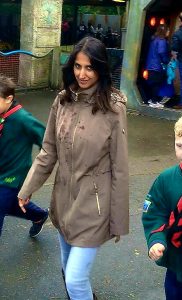 Let me make myself clear. This is not how I would normally choose to spend my time. I'm more likely to be found sitting in a boutique café sipping on an Earl Grey tea with a warm chocolate brownie (kids in tow, if necessary). I don't do theme parks….out of choice. Last year, when we went to Paris we did the compulsory trip to Euro Disney and I seriously wanted to kill myself (and Mickey). I'd rather take my kids to a museum or sightseeing and expose them to a bit of culture and history. But of course they would rather learn their times tables or stick pins in their eyes.
So in my book, I'm an absolute flipping saint for allowing myself to be subjected to the pissing theme park experience. I'm feeling quite smug about it now as I've scored in the good wife department (the Old Git is happy/stunned that I complied) and I'm apparently a "fun mum," according to Flump. I may well have been emotionally blackmailed into it and may well have wanted to beat the Old Git to a pulp for suggesting such a horrendous family day out, but everyone's a winner right now……………the things we do for love. Just don't ask me to do it again any time soon.