Shoot me now. Lately I've been having the most ridiculous, random, senseless and, quite frankly, alarming thoughts about having another baby. It's completely crazy and is about as likely as me giving birth to twin Chihuahuas, but it's causing me considerable anxiety. I have two children and more than my fair share of cuddles, affection, drama and angst. Baby number three has never been on the agenda, especially since turning forty. So why the hell am I getting that broody feeling again?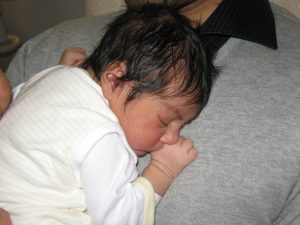 Of course it doesn't help that I have recently visited various friends who have produced the most beautiful newborns, as there's nothing quite like that familiar smell of talcum powder mixed in with baby vomit to make you feel nostalgic. Their tiny little fingers, silky smooth hair and dreamy eyes gazing up at you is enough to tempt even the most hardened of women, albeit only for a few seconds. In fact, I went as far as to ask the Old Git what his thoughts were on producing another mini-me and he responded by practically choking on his Kit Kat. I had to quickly reassure him that it was just a fleeting thought.
After much analysis and introspection, I've realised there are two reasons why I have been having these pangs of emotion. Firstly, my youngest, Ludoo, is about to start full time school in September. The realisation that my needy, obsessive, demanding baby will no longer be a "baby" is a strange one. Whilst Ludoo does, undoubtedly, drive me bonkers most of the day, I know that I will miss him. He is like my shadow, following me around everywhere I go. Sometimes, when he is at nursery, I find myself looking at other women with their young kids, and missing him. Then I SLAP myself and remember that I am hands free, hassle free and completely free to do as I please for a few hours. Hoorah! These sentimental feelings do not, however, equate to a desire to have another baby. Rather, they reflect a wistful acceptance that my youngest is growing up and an idealised affection for the early years spent with him. Feelings of nostalgia are not the same as feelings of broodiness.
The second reason for these unexpected feelings stem from my entry into the forties club. There is an uncomfortable sense of doom about diminishing fertility and a wave of panic that if I do want to have another child I had better do it now before it is too late. But again, this is more about my own sense of womanhood than about wanting another baby. It's not that I want to be knee deep in nappies and baby puke all over again. No. But the prospect of not being able to have another baby should I want one is a scary one that takes some getting used to.
So there you have it. Panic over. Nostalgia and the aging process have a lot to answer for. Now that I have regained my senses, I can go back to anticipating my imminent freedom from the preschool club and planning my life of (relative) independence. Be gone stinky nappies. Be gone night feeds.  I am not going to be tricked into thinking that's what I want again. Whilst I will always remember the baby years fondly, I'm ready to reclaim my life.