I've been married for over ten years now (crikey) and I'm one of those "rebellious" women that didn't change her surname after walking down the aisle. Initially it was for professional reasons as I had built up a reputation as a journalist (plus I couldn't be bothered with the paperwork), but in all honesty it went much deeper than that. So, why didn't I take my husband's name?
Firstly let's talk about culture. The concept of name changing is very common in Western, English speaking countries but in many other cultures such as Arab, Chinese, Malaysian, Korean, Spanish and Greek culture (to name just a few) this isn't a traditional practice. Women keep their own surnames after marriage and there is no issue or conflict of interest. Changing one's name is by no means a universally accepted practice.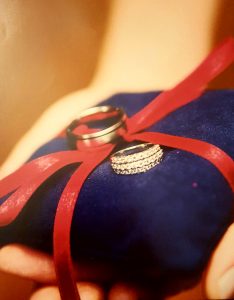 For me, it wasn't about being a feminist or not liking the Old Git's surname. It just felt wrong to change such a fundamental part of my identity. My surname is an intrinsic part of who I am and had defined me, at the point of marriage, for thirty years. So why would I just give it up? It connects me to my childhood and to my parents. I am still my father's daughter, even after marriage.
I see no reason to become immersed into my husband's identity. He has his own family history, as do I, and I am not defined by his story. Of course my children ask me why I have a different surname to them and this simply gives me the opportunity to remind them that they come from two families, with two different names, both of whom love them very much. It's not complicated at all. It's a way for me to remind them of their maternal line and for us to celebrate the origins of our own little family.
Just because I haven't adopted my husband's surname doesn't make us any less of a team or mean  I love him any less.  We make decisions together, share a house together, have children together and are committed to each other in every way. To suggest that sharing the same surname promotes family "unity" is nonsensical as the 42% rate of divorce in the UK demonstrates. A name has no bearing whatsoever on whether a couple stays together.
So how does the Old Git feel about all of this, I hear you ask? If I remember correctly, he grumbled a little bit when I first mentioned it ten years ago but not enough for it to become an issue between us. He would jokingly say I was "doing a Beyonce" on him (a la "Independent Women") but he never took it personally or as a rejection. His only occasional gripe is when other people describe him as "Mr Khan" on wedding invitations or holiday bookings. That, it seems, is a step too far for him and then he grumbles…A LOT. In a way, these occasional social mishaps are a good thing as they give him an insight into what it feels like to lose the name that you were born with and identify with.
I have my own little family now and am a wife and a mother. Naturally I have evolved over the years with these experiences but my name is still very much at the core of who I am. Shazia Khan, the girl that was. Shazia Khan, the woman that I am.