Recently I was having dinner with some girlfriends and we started talking about how often we get to go out on a date night with our other halves. When I casually mentioned that the Old Git and I only tend to go out on special occasions (birthdays, Valentine's Day and anniversaries) due to babysitting issues, some of them looked completely aghast. They told me they go out on a date night at least once a month, one friend even told me she goes out every Friday with her husband, which I found astonishing. What the heck? The Old Git and I probably go out on a date night about five times a year..MAX. How on earth do they find the time, the babysitters or the energy? The level of logistical planning that is required for regular date nights to take place, when you have small children, can be excessive, making it a complete hassle most of the time. However, it appears for some couples, date night is high on the list of priorities.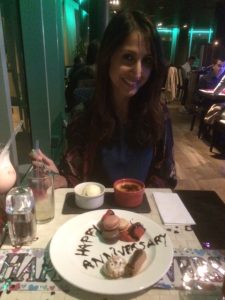 Of course in an ideal world I'd love to have regular date nights with the Old Git. I understand the importance of investing in one's relationship and keeping the spark alive. It all makes perfect sense to me. For our ten year anniversary the Old Git and I left the kids for a long weekend for the FIRST time ever and it did feel rather glorious. We went for long walks hand in hand, enjoyed leisurely lunches, had romantic dinners…I didn't find him annoying at all! It would seem being outside of the domestic environment and away from the kids made us get on splendidly (no bickering, no whinging and no passive aggression).  I think that's the whole point of having date nights. You leave all of life's responsibilities and dramas at home for a few hours and enjoy being a couple.
However, reality is such that the process of organising a date night can be an arduous one. Having grandparents who are willing and available to babysit certainly helps, but I don't like to overuse this privilege as I know my kids aren't exactly the compliant type and give the grandparents the run around. Plus it always feels completely chaotic to organise the logistics. At the same time we don't use babysitters either. So we really aren't making things easy for ourselves and have fallen into a bit of a rut.
I'm pretty sure the Old Git and I aren't the only ones that are in this rut. After having kids lots of couples tend to focus primarily on their children's' needs and leave their relationships to just tick along. The danger is if you leave it too long you end up being a middle aged couple with nothing else to talk about besides the kids, schooling and utility bills. Shudder.
So, I've had an epiphany and have come to the conclusion that despite the inconvenience and logistical stress of it all, it's worth setting aside some time for regular date nights, albeit once a month or once every two months (once a week? You're having a laugh). By putting it in the diary it's something we can plan for as there's obviously no such thing as a spontaneous date night when you have kids.  I have some friends who take it in turns to look after each other's children so that they each get the chance to go out. Others use reliable babysitters and many use family. Whatever the preferred method, it's definitely worth prioritising. So I'm going to get off my lazy ass, stop making excuses and start devising a rota. Grandma, you're up first.