I've been doing the school run for a few years now and it never ceases to amaze me how complex and fascinating a ritual it is. It's a microcosm of (primarily) female behaviour where the drama and dynamics of modern day motherhood are on full display. A new storyline unfolds every other week as relationships change and judgements are made, all taking place at the precarious school gates.
There are many different types of mums on the school run but I've come to the conclusion they largely fall into the following categories:
1)The stressed out mum who has to drag her kids and baby in a buggy down the street as  they scream/sob/moan continuously in the pissing rain. She has to juggle seven different school bags with frizzy hair and feels totally and utterly defeated by 8am. That would be me.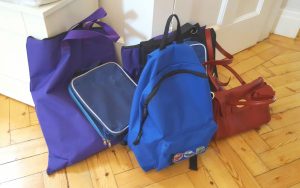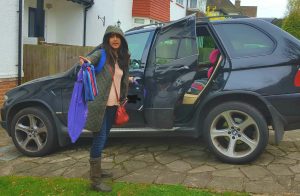 2)The immaculately dressed and perfectly manicured mum who      always looks a million dollars with her blow dried hair and perfectly made up face. The morning drop off is an opportunity for her to parade her latest purchases whilst gliding effortlessly down the street as others look on in jealous disbelief.
3)The lycra mum who is forever in her gym gear putting the rest of us to shame with our preference for tea and pastry in the morning. She is completely unrecognisable when, on the odd occasion, she turns up dressed in normal clothes, without the headband, and we all wonder who the hell she is. We also wonder whether she really goes to the gym every day or just heads home and puts her feet up to watch Jeremy Kyle.
4)The schizophrenic mum who acts like your best friend one morning and then completely ignores you the next. You spend half the school year wondering if you've done something to offend her and then finally conclude she is just plain weird.
5)The moaner. You casually ask this mum how she is and she proceeds to complain about every single aspect of home, family and school life. At first you think she is just having a bad day but then quickly realise every day is a bad day. You spend the rest of the school term trying to avoid her as it's not exactly the most uplifting start to your day.
In and amongst all of these contrasting personalities you have the parking issues and cliques to deal with, both of which cause further stress and irritation. Trying to dodge the traffic warden whilst competing for parking spots isn't exactly fun. Nor is being excluded by a clique of mothers who stop talking every time you approach them.  And let's not even get into the dynamics of the working mums versus the stay at home mums. The school run is an absolute minefield but a fascinating one at that.
Truth be told, this ritual, although stressful, offers a curious insight into female dynamics and the world of motherhood, whilst occasionally producing some good friendships. Despite the difference and drama, the shared dread and drudgery of the school run unites us. It's not my favourite part of the day but there's no denying that what goes on at the school gates makes the morning routine a little less dull, spicing up what would otherwise be an abysmal start to the day.